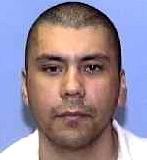 *Thug: Jose Luis Villegas(age 25 at time of murders)
*Date of Execution: 16 April 2014
*Date of Crime: 22 January 2001
*Victims: Erida Perez Salazar, age 24; her son, Jacob, age 3; Alma Perez, age 51
*Last Meal: TBA, no special requests.
*Final Words: TBD.
What a despicable creature Villegas is. There aren't words adequate enough to describe how disgusting his crime was.
Not only did he murder two women and a child, he did so in an appalling manner. Mrs. Perez was the first to die, stabbed 35 times, then her daughter Ms. Salazar was stabbed 32 times and finally the young boy, Jacob, was stabbed 19 times.
Villegas was identified by a witness leaving the house, was spotted, chased and caught by the police driving Ms. Salazar's car, then confessed to the crime after being Mirandized. There was physical evidence linking him to the crime, including DNA.
His conviction took twenty minutes, which to me indicates the jury was very, very deliberate in their duty.
What is seldom mentioned is Villegas criminal past.
Villegas had multiple previous arrests, including burglary, making terroristic threats to kill a woman, assaults and two counts of indecency with a child for exposing himself and fondling the daughter of the woman he was accused of punching in the face. Records showed he had spent at least 200 days in jail and four years on probation.(Source)
In fact, he was due to go on trial for assault on a woman the day he committed these murders.
Meanwhile, justice has ground very slowly, mostly due to a judge who just couldn't seem to get around to setting an execution date. Once the date was set, suddenly his attorneys realized he is "mentally impaired," which the court rejected. There was a brief delay a few weeks ago when the new pentobarbital was being questioned, but that issue has been resolved by the courts, also.
It appears Villegas' assaulting, burgling, fondling, murdering and stealing will finally come to an end tonight. As a drug user, at least he has 6p.m. to look forward too.
Sadly for Mr. Perez, the pain caused by Villegas continues.
Filed under: Execution Watch, n2l, texas, Urban Grounds | Tagged: Execution Watch, he's dead jim, n2l | 11 Comments »